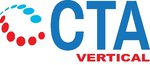 CTA VERTICAL
CTA VERTICAL: 10 Models / Airflow: 1.500-28.400 m³/h.
Floor installation with vertical development, ideal solution for reduced floor spaces.
Features
Support feet in plastic material reinforced with fiberglass and aluminum structure.
Double skin sandwich side panels with 25 mm thickness.
Polyurethane insulation.
Aluminium dampers with aerodynamic profile.
Dedicated gaskets for excellent tightness and integrated gear for higher protection.
Motorisable dampers.
G4 plate filter or F7 bag filter.
Integrated Electronic Control available.
Leakproof to ensure optimum air treatment.
Easy maintenance. Easy removal of all components and full access to all sections for cleaning for cleaning and replacement.