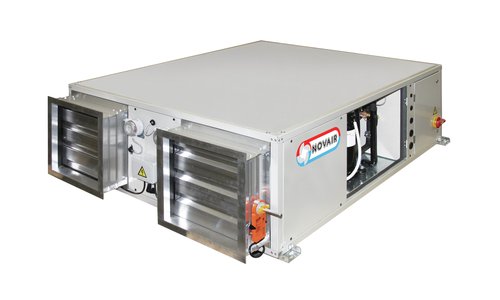 GRT 50÷360
Heat recovery unit from 500 to 3.600 m³/h with integrated heat pump
The new GRT ventilation units dedicated to air exchange (with possible air flow rate variation) and its thermal treatment (with supply temperature control in the rooms) have been designed and developed to reconcile multiple needs typical of both residential and commercial applications:
• Air renewal, with possible calibration and flow rate variation through the on-board electronics, both manually and automatically (from air quality sensor).
• Energy saving, achieved through a high-efficiency static heat recovery unit (> 70%), EC fans and compressor with Inverter.
• Constant, continuous and efficient adaptation to the thermal loads associated with fresh air, thanks to a heat pump refrigerant circuit equipped with a variable-capacity compressor and main components managed by on-board electronics.
The units in the GRT range recover air in the rooms to be treated. They recover 70% of the expelled air to supplement an existing heating and cooling system. The internal loads of the intake air are neutralised thanks to the integration of the modulating refrigerant circuit.
Versions
Features
Reversible Heat Pump.
Supporting frame in RAL 9002 pre-painted galvanised sheet metal.
Double-shell closing panels 20 mm thick, in RAL 9002 pre-painted galvanised sheet metal on the outside and galvanised on the inside; hinged at the bottom to easily access internal components.
Non-flammable thermal-acoustic insulation in mineral wool.
Compact 96 mm thick filters with synthetic/glass fibre media in 3 non-interlaced layers. On external air intake, ePM1 50% efficiency element, on ambient air intake, ePM2,5 50% efficiency element;
removable from the bottom or the side.
Double inlet supply and intake forward-curved radial electric fans equipped with EC motors and integrated control electronics.
High-efficiency static heat recovery unit of the cross-flow air-to-air type with aluminium exchange plates equipped with additional sealing; lower condensate collection tank, extended to the whole heat treatment area.
DC Inverter Rotary compressor with Brushless DC motor.
Cooling circuit made of copper pipes. It includes the following components: electronic thermostatic expansion valve; evaporating coil; condensing coil; filter drier; liquid and humidity indicator; high pressure gauge; 4-way reversing valve; liquid receiver; safety valves.
Internal electrical board for the management of all power controls.
Accessories
Factory fitted accessories
FTF9

Plate filters efficiency F9 ePM1 85% - Second stage

A9

Outdoor air return 90°

R9

Room air return 90°

E9

Air expulsion 90°

M9

Air intake 90°

SK

Adjustment damper

SM

Servo-motor for damper

GA

Anti-vibrating joint

EHP

Supplementary electrical heater-PRE

EHR

Supplementary electrical heater-POST

PF

Differential pressure switch filters control
Loose accessories
CRT

Touch screen remote control panel

ZV

Support base kit

KBP

Kit for external by-pass

WF

Water cooling / heating section

SQO

Air quality sensor (CO2)

KSA

Sanitization module with UVC plasma and antivirus

CFA

External hood with mesh

TT

Roof covering
Technical data
50
130
240
360
Air flow
Nominal
m³/h
500
1300
2400
3600
Nominal
m³/s
0,14
0,36
0,67
1,00
Sound pressure
Sound pressure (1)
dB(A)
70
77
80
82
Electrical characteristics
Power supply
V/Ph/Hz
230/1/50
400/3+N/50
400/3+N/50
400/3+N/50
Heat Recovery in winter
Recovery efficiency (2)
%
70,2
71,0
72,3
72,1
Recovery capacity (2)
kW
2,92
7,67
14,43
21,57
COP net (2)
6,6
6,0
6,1
6,2
Total transferred power
Recovery efficiency (3)
%
60,3
60,9
62,1
61,8
Recovery capacity (3)
kW
0,57
1,50
2,82
4,22
EER net (3)
4,1
3,2
3,2
3,6
Electrical Heater
Power
kW
1,5
2,5
5,0
7,0
Power supply
V/Ph/Hz
230/1/50-60
400/3/50-60
400/3/50-60
400/3/50-60
Weights
Transport weight
kg
180
256
302
455
Operating weight
kg
165
240
275
425
Dimensions
50
130
240
360
L
STD
mm
1390
1450
1700
1900
W
STD
mm
1120
1230
1560
1700
H
STD
mm
395
470
530
705
Notes
1

Circuito aria esterna/immissione ad 1 m dall'unità.

2

At nominal flow rate: outdoor air at - 5 °C 80% RH, ambient air at 20 °C 50% RH.

3

At nominal flow rate: outdoor air at 32 °C 90% RH, ambient air at 26 °C 50% RH.
Documents