SPECIAL ANTI-CORROSIVE TREATMENT FOR MARINE AND "HEAVY DUTY" ENVIRONMENTS
NOVAIR shows a new range of Air Handling Units, featured by cutting-edge technology, for the ventilation and air conditioning of technical buildings and technological systems, to comply with the required thermic-hygrometric, thermal load and air pureness values.
The arrangement of these units is specifically designed for the installation in marine and particularly aggressive environments.
The EUROVENT certification proves both the liability and the correctness of the declared performance data and features. All the internal components as well the units are compliant to the European Directive ErP ECODESIGN 2018 LOT6.
The conformity to the European Norm UNI EN 1886 about the structural thermal and mechanical performance are as well certified by EUROVENT. These specific units reach with its THERMAL BREAK configuration the T2 and TB2 classes for the casing thermal performance: T2 for thermal transmittance and TB2 for thermal bridges.
Steel base coated with protective Zinc-Magnesium (ZnMn) treatment
It is the most resistant material on the market and also certified for marine environments, where sodium chloride dissolved in the air leads to a significant deterioration of traditional materials. The treatment is applied by means of a molten metal bath chemically composed of an alloy of zinc, aluminium and magnesium. This creates a stable and resistant layer that covers the entire surface, offering protection against corrosion that is much more effective than traditional treatments. Moreover, Zinc-Magnesium is self-regenerating: in the event of damage to the protective superficial layer, the material reacts chemically by self-restoring the protection in a short time period.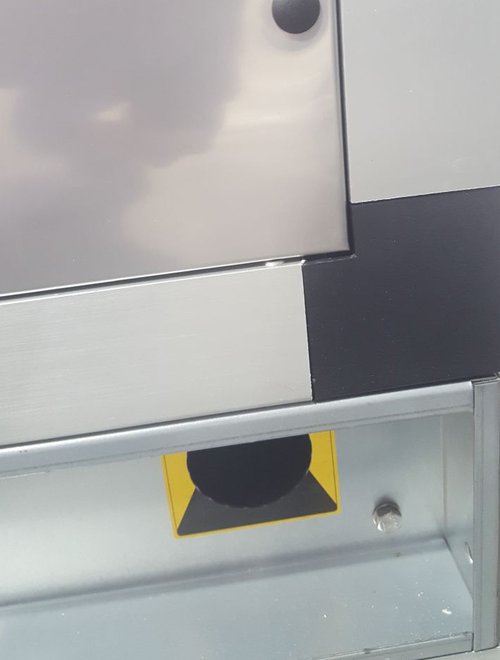 Bearing framework, dampers and grids in anodized aluminium
The aluminium, that is a ductile and corrosion resistant material, is subjected to an anodizing process. Thanks to this treatment oxygen is released and forms a thin and compact oxide layer on the aluminium surface, which thus acquires greater hardness, durability and resistance to both abrasion and corrosion.
Covering roof, panels and electrical post-heating coil in stainless steel
Made of stainless steel AISI 304, with the parts in contact with water made of AISI 316, they are characterized by a high resistance to corrosion by aggressive chemicals, easy clearing and excellent hygiene coefficient.

Copper/Copper (Cu/Cu) coils with ELECTROFIN® treatment
The heating and cooling water coils, made of Copper/Copper with AISI 304 frame, have high thermal properties and at the same time are longer resistant to the aggressive environment than the traditional Copper/Aluminium coils. For longer durability in marine areas is applied on the surface an additional ELECTROFIN® treatment. This is an electrodeposition of epoxy polymer specially developed to protect thermal exchange coils placed in coastal areas, as it guarantees complete protection of the entire finned surface with less than 1% loss of thermal exchange.
Fan motors
Backward curved blades radial fans with double inlet, made of painted galvanized steel, shaft and screws of AISI 304 and pulleys treated with cataphoresis. Motors with IE3 efficiency, protection level IP55 and insulation class F, suitable for Inverter.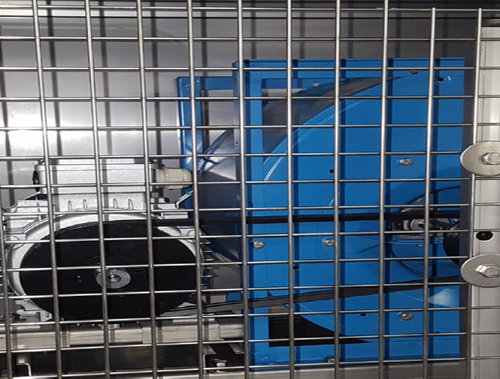 Heat recovery exchanger
The cross-flow heat recovery exchanger, with prepainted aluminium plates and fully painted frame, is compliant to the Directive ErP ECODESIGN 2018 LOT6.

Filters
Pre-filters made of synthetic fiber with G4 filtration efficiency with support containing net and frame made of AISI 304 and rigid bag filters with F8 efficiency with frame made of plastic material in removable execution, complete with differential manometer with pressure switch suitable for PLC signal, inspection doors with porthole and lamps IP55.
5-years warranty
All the main components have been subjected to accurate durability test in saline mist in order to guarantee the longest possible resistance even in heavy-duty environments. The components are C5-M certified according to ISO-EN-12944-6. The units are guaranteed for a period of 5 years for any damage caused by corrosion on the casing, structure and components.